The Rainbow Bridge Poem and
True Stories of
Pet Bereavement and Loss


Reading the Rainbow Bridge Poem will help to ease your pain. I know it will. Reading the poem, and then these lovely true stories of love and loss, has helped me many times. I invite you to share your own personal pet memorial story at the bottom of this page.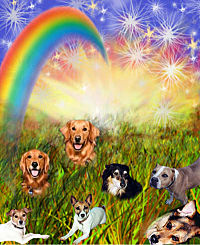 While reading The Rainbow Bridge Poem, try to feel how wonderful it will be to finally meet your beloved friend again.
Feel the soft fur, look deep into the eyes, stroke the beloved head.
Your pet knows how you feel, even in the beyond. Love is forever!

The Rainbow Bridge Poem

Just this side of heaven is a place called Rainbow Bridge. When an animal dies that has been especially close to someone here, that pet goes to Rainbow Bridge.
There are meadows and hills for all of our special friends so they can run and play together. There is plenty of food, water and sunshine, and our friends are warm and comfortable.
All the animals who had been ill and old, are restored to health and vigor. Those who were hurt, or maimed are made whole and strong again. Just as we remember them in our dreams of days and times gone by.
The animals are happy and content, except for one small thing. They each miss someone very special to them, who had to be left behind.
They all run and play together...but the day comes when one suddenly stops and looks into the distance. His bright eyes are intent. His eager body quivers.
Suddenly...he begins to run from the group, flying over the green grass, his legs carrying him faster, and faster.
You have been spotted.
When you and your special friend finally meet, you cling together in joyous reunion, never to be parted again. The happy kisses rain upon your face. Your hands again caress the beloved head. You look once more into the trusting eyes of your pet, so long gone from your life but never absent from your heart.
Then... you cross the Rainbow Bridge together.
~Unknown
You can download a free printable copy of The Rainbow Bridge Poem here.

You Are Welcome to
Express Your Feelings and Emotions
About Your Pet Here


It is comforting to know that when a beloved pet dies, they are finally pain free, happy, and cared for. I know you feel blessed that you had the time you did with your wonderful pet.
It helps to talk about the loss of a pet. Sometimes you can't stop talking about it! Talking about the death of a pet, seems to bring that pet closer, doesn't it? It sort of feels like if you keep talking about it, they will stay with you longer. Right? Often, other people don't understand this...but I do.
Pet bereavement and loss is different for everyone, but the loss of a pet, is one of the most profound experiences of love and loss that anyone can go through. I hope writing about your beloved pet ( below ), will ease the transition.
Another way to remember your darling dog, is to write your story down on paper, in your own words. My Dog & Me : Write My Story keepsake book, is a lovely, personalized uniquely guided writing journal, a perfect book to record the story of you and your pet. It would also make a beautiful caring gift for somebody you know who is going through pet loss and bereavement.

"There is a cycle of love and death that shapes the lives of those who choose to travel in the company of animals. It is a cycle unlike any other.
To those who have never lived through its turnings or walked its rocky path, our willingness to give our hearts with full knowledge that they will be broken seems incomprehensible.
Only we know how small a price we pay for what we receive; our grief, no matter how powerful it may be, is an insufficient measure of the joy we have been given, and the wonderful memories we are left with, last forever…"
-Suzanne Clothier
If you wish to return to Home Page from The Rainbow Bridge Poem you can do it here.
or, continue and write your love story to your pet.

Share Your Story of Love
If you feel you would like to share your story of love for a beloved pet who is no longer with us, I invite you to do so.

Please feel free to add a picture. We would love that!

When a pet dies, it can be a very emotional experience. I hope this page has given you comfort.

Sandra
What Other Visitors Have Said
Click below to see what other visitors to this page have said...

New!

Comments


Have your say about what you've just read here. Use the comments box below.


Sharing is appreciated!