Contact
Dog Nutrition Naturally



Normally, you'd be able to contact Dog Nutrition Naturally here on this page. However, Dog Nutrition Naturally is going through a major website revamping. So I will be unable to make my contact form available to you right now. Please be patient.
My mandate is always to help you learn how to restore health for your dog by feeding correctly according to guidelines set down by Mother Nature. Dog health coaching and consulting are my special areas of expertise.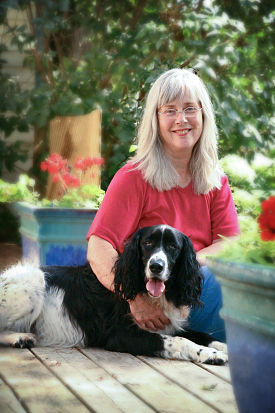 Here I am with my beautiful English Springer Spaniel. Pager used to be a very sick dog. He's the picture of health now.
Feeding Dogs for Health and Longevity
is Not Exactly Rocket Science


Seems this has become almost a mantra for me. Feeding dogs properly and helping them be healthy for life should be a simple thing to do. I sincerely don't understand why dog nutrition has become such a complicated subject. It's not.
Providing excellent dog nutrition doesn't have to be hard to do,  complicated to source, or expensive. I try to keep my suggestions as simple as possible. You and your dog's health are important to me. So that's why this website is changing. I will be implementing new ways for you to learn, so you can help your dog.
Often better canine health can be achieved by following these simple steps:
Upgrade the quality of your dog food and add some fresh whole foods.
Add nutritional health supplements for general health improvement. This works for everybody. No exceptions!
Targeted supplementation to overcome dog health problems.
While You're Waiting
for Contact Dog Nutrition Naturally to Return

You can sign up for The Dog Nutrition Naturally Newsletter


This website is a work in progress. I strive to offer you the best of my knowledge and experience. If there is anything you'd especially like to learn about holistic dog health care, natural canine nutrition guidelines or dog health information, the best way to help me help you, right now, is by answering a very simple 2 question survey. You can fill it out here.

Your #1 Biggest Dog Health Challenge.

Thanks for contributing to my survey so I can direct my information to help you better. In the meantime, here are a few of my most visited pages. Browse through these pages if they pertain to what you're looking for. If not, continue to read through the pages on this website and be patient. I'll be back soon.


Contact Dog Nutrition Naturally Will Be Back Soon


Learn it!  Love it!  Live it!


Donating to Dog Nutrition Naturally Helps Us Help You For Free