Our girl Penny
by Doreen
(New Jersey)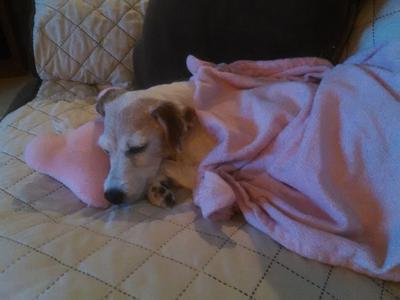 Our Penny Girl
We adopted our Jack Russell Penny from a shelter in 2010.

Her story was she was in a puppy mill since birth and had numerous litters of pups that were sold. She was a purebred Russell.

When we adopted her she was about 4-5years old. She had lived in a cage all her life and was mistreated. The day we went to the shelter to pick out a new family member she was the first dog we saw. She was laying on a cot with a red bandanna around her neck. She was very quiet, didn't acknowledge us when we called to her so we continued to look at all the other animals there but we ended up back at Penny. We both agreed she was the one we wanted to bring home. So we were able to hold her and play with her. She was very shaky we were told from the abuse she lived in. So it took a long time for her to come around.

Well we had Penny girl, as I would call her for ten years. Yesterday we had to put her down because she was in pain and suffering. She started to go down a couple of months ago. First her eye sight, then her hearing. Two weeks ago her legs started to give out. She could not stand long, didn't not want to go outside and just slept all day. My husband would carry her outside so she could go to the br and also sit in the grass. She loved to hold her head up to the sky and feel the breeze going by.

Penny girl was a great girl, companion and friend. We loved her and she loved us. She had a lot of problems over the years due to the abuse she suffered in the puppy mill but we worked with it and through it all because she was so special.

Our home seems very empty the past two days and we have shed a lot of tears. But we also realize we did what was best for her because of the pain she was in the last couple of days. She had a good life here. Our lives were better for having her a part of it.

We will bury her ashes in our garden by my Blessed Mary statue because this was her home and we want her to be here even as she waits for us at the Rainbow Bridge. Penny, you were loved and you will be missed.
New!

Comments


Have your say about what you've just read here. Use the comments box below.


Sharing is appreciated!