From Gracie to Auntie "Sandrwa"
by Kim Parker
(Wellington)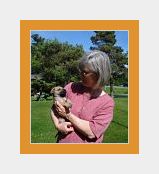 Proud Auntie Sandra
Yours were the first hands to touch me and send me messages of love, strength and comfort, while my mum drove the car.

You infused all I needed to get me where I was meant to go.

You helped my mum, you loved me, and I loved you.

I had five months of total committment and then... continued my journey across the Rainbow Bridge, carrying the warmth and tenderness of loving hands deeply embedded in my heart!

I will send you messages of love often, from soft brown eyes.....

Gracie Dane ( Chicken baby)
New!

Comments


Have your say about what you've just read here. Use the comments box below.


Sharing is appreciated!