Toby, the Best Dog I Could Ever Ask For
by Sam
(Colorado )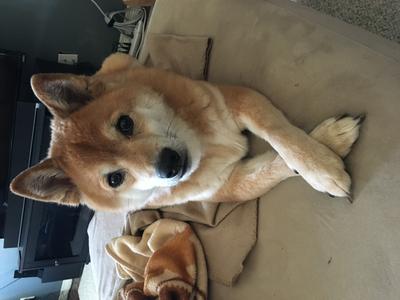 I first met Toby when I was around 11 and my dads friend in the military was stationed here and needed a place to stay near her base.

At first Toby seemed reserved, he only had his eyes on her...but after a few nights, he would pop his head into my room and come lay on my floor. We took a liking to one another. Little did I know, he would become my most important friend.

My dad's friend had to go to Afghanistan for 9 months, and I had become Toby's second favorite, so I took care of him. We became best friends. He was neutral towards my family, but he really liked me!

I remember the day before she got back from Afghanistan. I cried cause I didn't want him to go. She took him back for a while, but she was moving around so much and working a lot, so she couldn't spend time with him.

He was taken care of by another family, but they hit him a lot. When he got back from their care, he would shy away when I would try to pet him and was very skittish. She and I both noticed this, and she gave him to me.

It was one of the best days of my life. Toby was my best friend. I'd play with him all the time. He loves tug of war and fetch.

He looooved treats and got kinda fat at one point. Sometimes, when he would turn his head his neck rolls would squish his eye and it would look funny!

I loved him so much. Whenever I was crying, he would come up and paw at me and I'd pet him and hug him, and it made me feel so much better. Sometimes just the little wet nose of a dog can make all your problems go away.

Toby was around 8 or 9 when I got him. He was pretty old, but he was spunky and thought he was the king of the world.

Around January of this year, Toby's age eventually started to catch up with him. He got what my family and I thought was dementia. He would bark at nothing, and he eventually lost most of his sight, but he was still my baby and I loved him just as much. He was just a little less active now. I could still lay down with him and give him pets.

Then it happened. I was on vacation with my family in Florida, and my dad told me he had to put Toby down. It was the most heartbreaking thing. The worst part is that I couldn't be there with him in his last moments, but my mom was. I'm happy he was able to look up and someone was there.

Many people think they can't handle being there when their pet gets put down, but all they want is to be with the one they love. I wish it was me.

This has been one of the hardest things I've ever experienced. He was so special to me. Coming home to a quiet house is so different and unusual. I catch myself sometimes going into where he normally was and looking for him, and remembering that he's gone.

But he lived a very full and happy life, he was very spoiled and lived to a very old age which is the best thing. Dogs dying young is just not fair.

Toby, I miss you so so much, and I wish I could've been there with you till the very end. I love you. You always will be a part of my family, and you will always be in my heart.

I have since found comfort in religion, believing God will take care of Toby until the day comes when I will leave the Earth too. I believe Toby is up there, young again and happy as can be, waiting for me to join him.

I will see you again, Toby. I promise!

If you got to the end, thank you for reading this and spend as much time as you can with your little ones!
Have your say about what you've just read here. Use the comments box below.