Welcome to Dog Nutrition Naturally.
Your Guide to Healthy Eating for Dogs.



Dog nutrition comes from anything your dog eats. The nutrients in your dog's food are essential for good health. Therefore, nutrition is the foundation on which good health is built and maintained. It's that simple!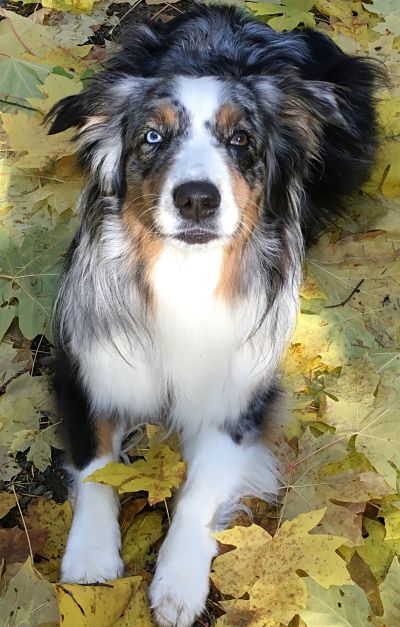 Beautiful Skyy ~ Aussie Shepherd
Better Dog Nutrition is Possible Without Sacrificing Cost or Convenience


Some people think dog nutrition isn't important. Some people think it doesn't matter what you feed your dog. Of course it matters! You love your dog don't you? Experience has taught me that feeding dogs for the purpose of building good health is worth a lot. So much in fact, that I've devoted this whole website to teaching you...
why healthy eating for dogs is important
how you can easily upgrade your dog's diet to make it healthier

how healthy eating for dogs can solve dog health problems

Isn't your dog worth it? I think so!
The quality of the food and nutrition your dog receives, will influence the level of health your dog will experience. Quality of food and state of health are intimately connected for all of us.
Health is something you take for granted, until you don't have it. Then it becomes very important, doesn't it? So think about that. Your dog is healthy...until he's not. It's much easier to prevent dog health problems than it is to fix them later. Nutritious dog food is your best preventative weapon against illness and chronic dog health problems.

Confused About Healthy Eating for Dogs?


Feeding dogs for good nutrition is not rocket science, folks! If you want to know what and how to feed your dog for good health, all the answers are here for you.

Meeting dog food nutrition requirements is actually really simple. Historically, dogs have been feeding themselves for thousands of years. I guess they know something we don't? Yes, or yes?

However, your dog is completely dependent on you for everything, isn't he? He doesn't feed himself! You are in charge of all of his dog food nutrition and his dog health care needs.
So, that means you can help your dog be naturally healthy for life, or not. It's up to you! If you want to take more responsibility for your dog's health and be less dependent on your expensive vet, you can do it. Healthy eating for dogs doesn't have to be complicated, inconvenient or expensive.
Better Dog Health Starts With Better Dog Nutrition from Better Dog Food


Better dog nutrition is the foundation for better dog health for life! You can take charge of your dog's nutrition and health today. Don't wait. Your dog can experience a healthier life, and you can experience the joy of knowing you did your best for your dog.
Everything you need to know is here on this website.

Take a Moment to Ask Yourself

Is my dog getting the best dog nutrition possible?

Is my dog as healthy as he/she can be?

Is there more I can do to help?
Start By Reading a Few of Our Most Popular Pages


 
Read These Special Dog Nutrition Naturally Reviews...



Thank you so very much Sandra. I will  certainly take your advice & try everything you said. You have no idea how thankful I am for helping me!!! Again, thank you so much.
Pam
I can't tell you how much I appreciate your friendship and guidance. You started me on this path of education and I have learned so much. You have literally changed lives, dog and human.
Chris
What would I do without you Sandra? Your guidance and patience with ME has made  all the difference in the world for my dog, Lily. We would still be living in the dark if it wasn't for your help. Thank you does not even begin to express how grateful I am.
Carolyn
Thank you Sandra. I appreciate your input and your support! I will keep you posted. You are, and have been a blessing to me, I will see you in heaven I hope.
Jan
Join the Dog Nutrition Naturally Newsletter Community


New!

Comments


Have your say about what you've just read here. Use the comments box below.


Sharing is appreciated!