What is Dog Nutrition
and
Why Should You Care?




Dog nutrition comes from anything your dog eats. You should care because how you feed your dog is the most important factor influencing your dog's health. Dog nutrition is the foundation on which good health is built and maintained. If you don't believe this, you've come to the wrong place.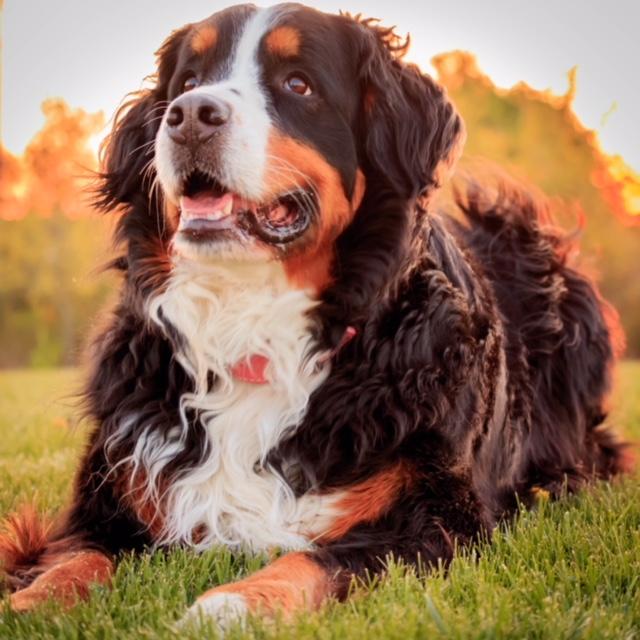 Beautiful Ella is a happy, healthy 8 year old Bernese Mountain Dog.
Is Dog Nutrition Worthless?


Well, ask yourself this question. Why do we all need to eat? Is your dog any different than you are? I've had people try to tell me that being concerned about dog nutrition is stupid and useless. Some people think that it doesn't matter what you feed your dog. It's just a dog. I'm not one of those people, folks. Are you?
Experience has taught me that feeding dogs properly is worth a lot. So much in fact, that I've devoted this whole website to teaching you why canine nutrition is important and why you should care about it. Isn't your dog worth it? I think so.
I believe the quality and type of food your dog eats, will equal the level of health your dog will experience. Quality of food and state of health are intimately connected for all of us. If you don't believe this, you're reading the wrong website!
Can You Really Find Good Information
About Dog Nutrition and Dog Health
On the Web?


Sure you can, but you'll drive yourself crazy trying to figure out what's good and what's not. Feeding dogs to give them good nutrition for life should not be rocket science. For heaven's sake! Why would anyone need to be certified as a dog nutritionist in order to feed their dog? Really?

Dogs have thrived as a species for many, many thousands of years. Surely, all you have to do is look at how they did that, and understand that if you simply feed you dog in more or less the same way, your dog will thrive as he's meant to. 
Truly, good canine nutrition only comes from fresh whole food. This is not rocket science. Since dogs are carnivores, they require meat, bones and organs to be healthy. If you're someone who thinks that dogs have suddenly mutated into omnivores over the last couple of hundred years, you've come to the wrong place.
Dog Nutrition Naturally
is
Your Way to Success


Handsome Jack is a 4 year old Golden Retriever who went from yeasty dog to healthy dog.
It is in your power to help your dog be naturally healthy.
Your dog is completely dependent on you for everything, including all of his food, nutrition and dog health care needs. This does not have to be complicated and difficult, inconvenient or expensive.
Everything you need to know is here on this website.
On this page you can read testimonials from others who have done it.


3 Easy Steps to
Better Dog Nutrition and Health
Starting Right Now


Choice

- You can choose to help

your dog get healthier using better nutrition from fresh, whole food, starting today!
Chance

- If you don't take the chance, your dog will never experience a change for the better. 

Change

- To change anything you must change something. If you keep feeding the same dog food over and over everyday, nothing will change for your dog.
So, take a chance and make the choice to change! Better dog nutrition produces better dog health for life! My dogs live the proof. You can take charge of your dog's nutrition and health care yourself, starting today.
How would you feel if you had no worries about your dog's health because you knew exactly what to do every day, to help?
How would you feel if you knew you could add years to your dog's life by keeping him healthy yourself at home?
What would those feelings of confidence and security be worth to you?
If you need more help than what you find on the pages of this website, I'm here to help you.The best way to reach me, is to enter your email below.

Sandra with Ted and Lily

Now...
Read these special comments from others about
Dog Nutrition Naturally...




Thank you so very much Sandra. I will   certainly take your advice & try everything you said. You have no idea how thankful I am for helping me!!! Again, thank you so much.

Pam

What would I do without you Sandra? Your guidance and patience with ME has made  all the difference in the world for my dog, Lily. We would still be living in the dark if it wasn't for your help. Thank you does not even begin to express how grateful I am.

Carolyn


I can't tell you how much I appreciate your friendship and guidance. You started me on this path of education and I have learned so much. You have literally changed lives, dog and human.

Chris


Hi Sandra, Thank you. I appreciate your input and your support! I will keep you posted. You are & have been a blessing to me, I will see you in heaven I hope.

Jan

Providing the information you need to make the changes you want.

Learn it!  Live it!  Love it!