My Little Jasper
by Gil Trevino
(Denver, Colorado)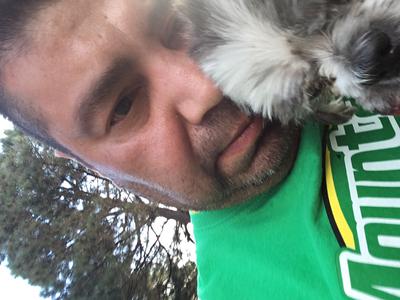 Our last night together. I will miss my friend.
Jasper and I met 18 and a half years ago. I can still remember him as a puppy, where he fit solidly in one hand.

From the beginning, I knew he was special. They say that dogs with different colored eyes have special powers, that power being granting wishes. He definitely made my wish come true. That wish was to be happy. For these many years Jasper has been my shadow. Everywhere I go, so does he. I am not sure how, but it really felt like this little eleven pound shi tzu was protecting me from behind. Always there, just one step away in case I needed him.

As time has passed, he has dwindled down to about seven pounds, and he doesn't see any more. It used to annoy me when I would come home and he would run right into me, but then I realized that he was coming to make sure it was me and not some random person.

So, his cancer is spreading and today is the day to let go. I have been fighting back these tears all week, sometimes successfully and other times not at all. I only hope that he understands why, because I don't want him to suffer. I hope he thinks that I gave him a great life and if I could do it all over again, I wouldn't change a thing.

I hope he understands how much this is tearing me up inside, and that losing him is definitely losing my best friend. I sit here writing this knowing that in a very short time, i will have to be strong, because this will be the first time in 18 years that my little Jasper won't be there to greet me when I get home. Tears streaming down my face, and a heavy heart. The picture that I am uploading is one I took last night, knowing this would be our last.

We sat outside this morning and watched the sun come up together one last time. Someday, I will pass too, but then I will get my little shadow back. Thanks for reading.
Have your say about what you've just read here. Use the comments box below.