My wee Max
by Yvonne
(Scotland)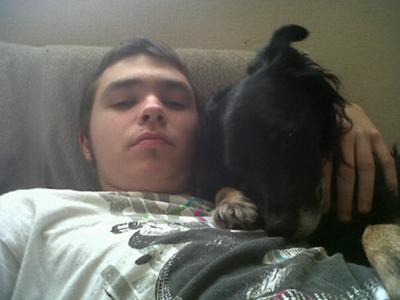 Adoring Wee Max and Mac !
Max was a 6 week old pup when we got him from the rescue home ( I didn't want another dog because I had a dog called Mac for sixteen years, and I thought there would be never another like him... I was wrong ).

I loved wee Max after a couple of hours like I loved Mac. My husband and I adored Max. He went every where with my husband, and as for me he was my best pal.

He was a true gentleman one of the best, but in April 2011 I noticed he had a lump in the side of his face, so I took him to the vet and they ran tests, and the out come of it was a flat bone tumor. 4 weeks later my wee pal was bleeding from his mouth. So I took him to the vet and they said he had day to live.

I was devastated! My husband came home from his work early and then he took my best pal to the vet and he was put to sleep.

My house is so quiet now, but I know my Mac, and my Max will be waiting for me at the Rainbow Bridge.

Rest in peace my wee Mac and Max till we meet again.

Reply from Sandra

Yvonne my heart goes out to you and your husband!

Thank you for sharing your story of wee Max and Mac. How much happiness they bring to our lives, eh?

Your heart is broken now, but maybe one day, time will heal, and there will be another young pup to fill your heart with love again. I hope so.

There are so many dogs that need a good home. They are just waiting for people like you and your husband to come get them and bring them home.

No other dog can ever replace wee Max and Mac...but there will be another... his own unique self, with his own personality, and his own love to give you.

Somewhere he's waiting for you.

Sandra




New!

Comments


Have your say about what you've just read here. Use the comments box below.


Sharing is appreciated!