My little Shadow Man
by Laurel
(B.C. Canada)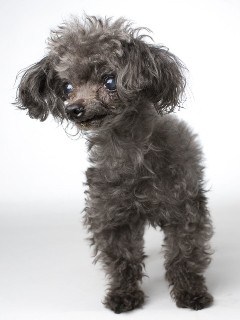 Wee "Shadow man"
My wee fuzzy "Shadow" came to me on January 12 2009, after I spotted his little face on line. He had been abandoned and was nearly dead from starvation. He was then 13.
I knew the moment I saw his picture that he had to be on my lap, and in front of my warm fireplace for his remaining years.
He grew into a precious, cheeky, loveable little man, doing his "poodle prance" with his ears comically bouncing as he followed me everywhere, living up to his name "Shadow".
Today, March 18 2010 I had to say good bye to my newest best friend.

I will truly miss the little "yeep yeep" noise if I was too slow getting his breakfast ready. I will miss rubbing his wee head until he went to sleep at night.

Thanks for showing me that adopting a senior dog can be one of the most rewarding things I have ever done.
I love you little buddy, see you at the Rainbow Bridge one day and we'll romp together again!


Laurel,

Thank you for sharing the story of your precious ' Shadow '. There are so many senior dogs and cats, just waiting for a good home to live out their remaining time in comfort, surrounded by the love of caring humans.

Isn't he just the most darling looking little imp!

Bless your heart for being compelled to rescue him. Surely you both will meet again when it's time.

Best regards to you always,
Sandra
Join in and write your own page! It's easy to do. How? Simply click here to return to Rainbow Bridge .
New!

Comments


Have your say about what you've just read here. Use the comments box below.


Sharing is appreciated!