Nikki, my awesome dog!
by Jessie
(South Carolina)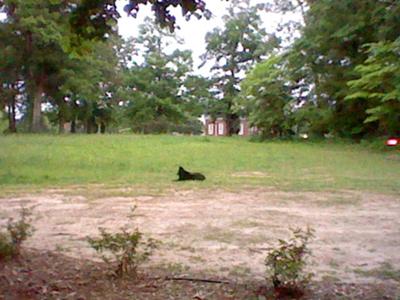 Nikki sitting outside like a sweetie !
I remember Nikki when she was fully grown.

I was scared of her at first, but then I fell into deep love with her.

I could now finally go outside alone, all thanks to her.

I would swing on my swing set and she watched over me. Before she died a super painful death, I took her outside for walks everyday and we would sit at that old swing before we continued.

When my baby Nikki died the morning of August 4th, 2011, I was terribly heartbroken.

I did not know what to do without her, but knowing that she is in my heart and that she is safe across "Rainbow Bridge", I can't wait to see her again.

She will always be loved in my heart!

Reply from Sandra

Ah Jessie! How wonderful that you had that special time with Nikki.

Our dogs are our best friends, aren't they? They play such a special role in our lives, and help us so much. They help us overcome problems, and lead us to be the best we can be. We learn from them, and they ask for nothing in return...only love!

You will see Nikki some day, when you both meet again over the Rainbow Bridge. She will be waiting for you there, and will run towards you when she sees you.

Look forward to seeing Nikki again when the time is right.

Jessie...thank you for sharing your special story about Nikki.

Sandra
Join in and write your own page! It's easy to do. How? Simply click here to return to Rainbow Bridge .
New!

Comments


Have your say about what you've just read here. Use the comments box below.


Sharing is appreciated!