Little miracle
by Teresa
(Concord,Ca)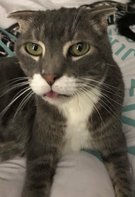 My BooBoo was born on Dec 9th 2005. His mom was hit by a car when he was a couple weeks old.

He was born with some bone issues. The breeder said that he was probably going to die so we should let him go. I wouldn't do that. I asked if I could take him and care for him. The breeder said I could if I want to, but I'd just have to let him go eventually because he had crooked feet, his tail was stiff and there could be more issues and it's not worth trying to keep him.

I kept him and feed him with a bottle. I carried him around in my blouses and shirts to keep him warm. I took him with me with my kids. Now 12 yrs and 11 months later my baby has left me. He left me brokenhearted.
New!

Comments


Have your say about what you've just read here. Use the comments box below.


Sharing is appreciated!