In Memory of Sabre
by Jim
(Ontario, Canada)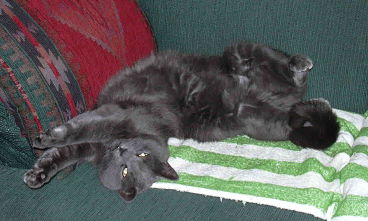 Sabre Relaxing
Somehow I summoned the courage to do the inevitable this morning and euthanize Sabre. It had to be a spontaneous decision. There is no right time to euthanize a friend. It is the hardest decision a pet guardian makes. They bring so much joy to our lives and grief when they pass on.


This gentle giant was adopted from the Etobicoke Humane Society on 14 Feb. 2001. He was adopted with Pepper as a package deal. Initially he was not sure if he had found a good home and he hid in the basement.

We spent many happy hours together at home and the cottage. He loved cottage life and all it had to offer. He travelled well in the car and did not mind it.

As the picture shows, he was famous for crazy sleeping positions, like these. He was getting slower in the last few years, but I watched him chase and catch a chipmunk around my car at the cottage in Sept. '08. I made him release it.

Every night he would hop onto my chest, put his paws around my neck and start purring. He loved sitting
in my lap and having his chin scratched.

I used to bring my cats in at night at the cottage for their protection. One night I was not able to find Sabre until early morning-he had been busy and presented me with a trophy-size mouse.

About year ago, he was diagnosed as having failing kidneys, common for older cats. Since Nov., he had to have twice weekly visits to the vet for fluid injections, was on a low-protein diet, and Fortiflora added to his food daily. He had chronic diarrhea caused by his failing kidneys despite trying two different prescriptions. I knew I was just buying him
time.

He is survived by Pepper, Chloe and Raymond. And a little female tortoise-shell cat that has moved in, without her announcing her decision!

Many thanks to Dr. Kristina Bennett and the caring staff at Foster Park
Pet Hospital.

New!

Comments


Have your say about what you've just read here. Use the comments box below.


Sharing is appreciated!