Complete Raw Dog Food
from
Dog Nutrition Naturally


This is the raw dog food I use at home? It's no secret why we feed raw dog food. Our dogs are healthy and look wonderful. Anyone who knows us, will tell you our dogs are all the proof you need, that feeding a complete raw meat dog food diet is the best dog food there is.


Teddy, Pax and Lily. Our dogs live the benefits of raw feeding for dogs.
I have not always been a raw feeder though. I have done it all and likely you have too.

But I wasn't satisfied with any of these choices because...
commercial, canned and dry dog food was really expensive, contained questionable ingredients and for that reason, did not produce the health benefits I wanted to see
homemade dog food was hard work, time consuming to prepare and often cost too much

commercially blended raw dog foods and dehydrated raw dog food contained questionable dog food ingredients and was way too expensive!
4 Reasons To Love
Dog Nutrition Naturally
Complete Raw Dog Food Blend?


I wanted a premixed, frozen raw dog food that met my high standards for...
Health - my raw dog food must have a nutrient profile correctly balanced specifically for dogs.
Ingredients - my raw dog food must contain varied ingredients specific to carnivores, namely meat, bones and organs with no added carbohydrates from fruits, vegetables, grains or starches.
Convenience - my raw dog food must be easy to use. I was really tired of making my own raw dog food.

Cost - my raw dog food should not be expensive. Cost is important to me.
Why Your Dog Needs
Appropriate
Food For Carnivores


Your pet dog is a domesticated form of the Grey Wolf ( Canis Lupus Familiaris ) and is a member of the Canidae family, of the order Carnivora. In other words, your pet dog is kin to the wolf, and by nature is a scavenging carnivore ( meat eater ). So therefore, the best healthy dog food for your pet carnivore, is a raw diet for dogs based on foods your dog is genetically programmed for, namely a raw meat dog food. It's in his DNA.

Your dog must get his energy and nutrient requirements mainly, from animal tissue. As a scavenger, your dog is also able to consume some other foods such as fish and eggs, along with small amounts of vegetation as would be found in green tripe, the predigested stomach contents of the herbivore prey animal.
Learn more about Canine nutrition and feeding dogs here.
It's important that the nutritional analysis of a raw dog food blend mimic as closely as possible, the diet of all wild carnivores. The natural canine ancestral diet would provide...

Protein at about 49%
Fat at about 35 %
Ash at about 6%
Dry matter at about 10%
The approximate breakdown is illustrated in the diagram below.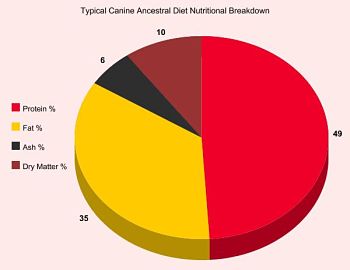 Typical Canine Ancestral Diet Nutritional Breakdown
Dog Nutrition Naturally Raw Food Diet For Dogs Ingredients

Dog Nutrition Naturally
Raw Dog Food Ingredients


Dog Nutrition Naturally Raw Dog Food is a biologically appropriate, raw meat dog food for your pet carnivore. All raw dog food ingredients are premixed, finely ground, frozen and stored according to legal requirements. All ingredients are sourced as locally as possible and come from federally inspected facilities. The excellent quality meets my high nutritional standards for reaching and maintaining optimal health for dogs.
The food ingredients included in our raw all natural dog food blend are:

40 % chicken viscera, internal organs such as hearts, gizzards, liver, kidneys

15 % beef meat, connective tissue and bone
20 % beef offal ( internal organs, including green tripe )
20 % fish
5 % egg
Here's more info about the huge nutritional benefit of feeding internal organ meats or offal in their natural raw state.
3 Reasons Why You Should Buy
Complete Raw Dog Food
From Dog Nutrition Naturally


What sets us apart from others selling raw dog food? Here's why we're different?


We've been in the raw dog food business for more than 18 years. We didn't just jump on the raw food bandwagon to take advantage of a new trend. Raw feeding is important to us for health reasons. We want your dogs to be healthy for life!

We have experience and expertise

backed up by training in the area of 

natural health care

for pets and people. We are ready to

answer all your questions

. We will

support you

in your goal to have a healthier dog and

guide you to success. We are always here to help you!

We are health conscious people

. We promote holistic, natural health care and

healthy eating

for people, as well as dogs. It's lifestyle for us!
Dog nutrition naturally and dog health are our special area of expertise. Not only will you be feeding your dog an excellent high quality raw dog food blend, you will also have the benefit of Sandra's expertise as a Natural Health Practitioner. Sandra is always available as your mentor and dog health coach. If you are trying to overcome dog health problems, you can contact Sandra. She is available for dog health consultations free of charge.

Considering Switching to Raw Dog Food?
Here Are 4 Helpful Dog Feeding Tips


Typically, raw dog food would be fed in amounts that equal 2% to 3% of total body weight per day. These dog feeding guidelines can be adjusted up or down, taking into consideration...
energy and activity level
age
health improvement needs
seasonal requirements ( winter/summer )

If you're thinking about starting a raw food diet for your dog, here are more dog feeding tips to guide you through transitioning your dog from kibble to a raw diet. You will also find helpful dog feeding tips for maintaining and sustaining good health for your dog for life.

Dog Feeding Guidelines Chart


| | |
| --- | --- |
| Size of dog | Amount of food to feed in lbs/ozs daily |
| 5lb dog | 0.1-0.15 lbs or 1.6 - 2.4 oz or 1/4-1/3 cup |
| 10lb dog | 0.2-0.3 lbs or 3.2 - 4.8 oz or 1/3 -1/2 cup |
| 20 lb dog | 0.4-0.6 lbs or 6.4 - 9.6 oz or 2/3 - 1&1/4 cups |
| 50 lb dog | 1-1.5 lbs or 2 - 2.5 cups |
| 100lb dog | 2-3 lbs or 4 - 5 cups |
*** Please note *** 
We do not add fruits and vegetables as we feel that dogs being carnivores, do not need extra carbohydrates which, over time, can create unwanted inflammation in the body and put a heavy burden on the pancreas.
We prefer feeding a raw food diet for dogs that falls within ketogenic diet guidelines to prevent dog health problems before they start. Appropriate raw dog food can help you overcome even very serious health challenges such as dog cancer. 
Cancer is now the # 1 killer of dogs.
This is shameful, and DOES NOT have to be!


Dog Nutrition Naturally Raw Dog Food

Available for Pick Up in Picton,
Prince Edward County, Ontario



You can find us at

9 Grove St. in Picton, Ontario

613-471-1033
or text to 613-849-7507

8AM to 8PM

We provide raw dog food to Picton Ontario, Prince Edward County Ontario, Trenton, Frankford, Belleville, Napanee, Bath, Amherstview and surrounding areas of Northumberland County, Hastings County, and the Counties of Lennox & Addington.
Need raw dog food delivery? Give us a call.
Dog Nutrition Naturally
Raw Dog Food
Pricing

Dog Nutrition Naturally Raw Dog Food is frozen and cut in one pound bricks for your convenience. Just thaw in the refrigerator as needed, and serve.
40 lb bag ~ $70.00 ( $1.75 lb )
20 lb bag ~ $40.00 ( $2.00 lb )
10 lb bag - 20.00 ( $2.00 lb )
For the feeding needs of small dogs who require smaller meal portions, we have 1/4 lb rolls ( sausages are same ingredients )

Larger quantities of our raw diet for dogs is also available for breeders and people with multiple dogs
160 lbs ( 4 bags ) or more - $220.00 ( $55/bag ) ( $1.37 lb )
All prices include tax

Not sure if your dog will like a raw food diet? 
GET YOUR FREE RAW DOG FOOD SAMPLE PAK
| | |
| --- | --- |
| Still frozen | Thawed and ready to serve |
New!

Comments


Have your say about what you've just read here. Use the comments box below.


Sharing is appreciated!