Beloved Loki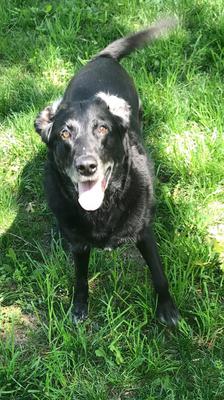 Sweet Loki I don't know how we are going to get used to not having you around anymore after 14 years.
Loki was 14 years old.
He was a
Black Labrador Retriever, and boy did the grey hairs show up on him as he aged! LOL.

He was an absolute joy. A live toy. So playful until the very end.

Fetch was his favorite, naturally! He loved playing with tennis balls or sticks. He loved walking with a stick in his mouth. He'd rather struggle with his panting than let someone carry it for him.

When he was young he was so athletic. He could leap high in the air to catch a frisbee. He hiked for miles in the woods with our sons and was trained off leash. When they climbed boulders he would hang out at the base of the rocks digging holes and chewing on sticks.

He never ran off. This dog was not about to ever leave his people. He always stayed in the yard as we did yard work. He'd go jogging with our son off leash for miles. The last few years of his life we bought a pontoon and he was thrilled with the regular trips to the lake for a swim. Or rather a float. We put him in a dog vest and he'd just float around with his front legs on pool noodles. He'd get so sleepy floating on the lake.

He loved everyone and could be completely trusted with children.

So much personality. I swear labs can look into your soul. He was so sweet. Always at our side, giving us his undivided love and attention. I could go on and on about how wonderful he was and how much we loved him. Now we have a huge void to fill. It won't be easy.
New!

Comments


Have your say about what you've just read here. Use the comments box below.


Sharing is appreciated!