Rest in peace Faith
by Samantha Carroll
(Winnipeg, Manitoba, Canada)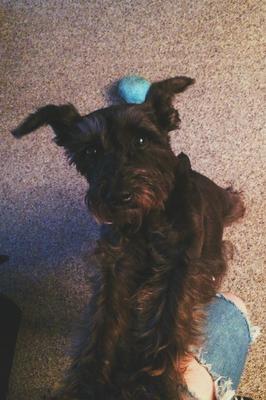 Faith was a beautiful black miniature schnauzer. She was born on April 7th, 2010. She had a great life. She lived in Winnipeg, Manitoba with a family who loved her dearly, and still does. She lived with me, my mother, our other miniature schnauzer Harmony, and our cat Buddy.

Faith loved anything to do with outdoors. She loved going on walks, but her favourite thing of all time was taking her for a run. We would take her to a huge grassy field and she wouldn't stop running around the whole time. Even saying the word "run" would make her jump and bark and howl like crazy. Her howl was so adorable when she got excited. That is a sound I will miss forever.

Car rides, treats, walks, runs, and her family were the biggest thing that made her happy. She truly had an amazing life and I wish we could've got more time with her. She was 8 years old on August 3rd when she gained her angel wings. She will be missed dearly, and she will forever be in my heart.

A piece of me went with her, but I feel comfort knowing she is now in gods hands and she is no longer in pain from her sickness. Shout out to Alpine Animal Hospital for doing everything possible to save our little girl. I will love her forever.
New!

Comments


Have your say about what you've just read here. Use the comments box below.


Sharing is appreciated!