Dog Nutrition Naturally Blog
Welcome to The Dog Nutrition Naturally Blog. Stay up to date on new website pages and important articles I write for you on dog nutrition the natural way.
Get guidance and strategies to help you resolve specific dog health problems at home. Don't miss articles on feeding dogs for health and longevity, dog treat recipes and more.
Together we can change the world, making dogs healthier from the inside out, one special dog at a time.
Click the small orange RSS box at the right to subscribe.
Feb 12, 2019
Possible dog allergy?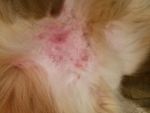 So my 7 yr old golden retriever was feed Acana Grasslands, then pork and squash and mixed in with Orijen freeze dried Regional Red. He always had yeasty
New!

Comments


Have your say about what you've just read here. Use the comments box below.


Sharing is appreciated!