Making Your Own Dog Food
Is Easy and Costs Less


Making your own dog food is an idea whose time has come again. Years ago, before the era of commercial dry dog food, everyone gave their dog homemade dog food. Really? Yes. The dog ate what was left over from your dinner. Today, we don't have to be quite so casual. Thanks to the internet, we are more educated about feeding dogs the best dog foods.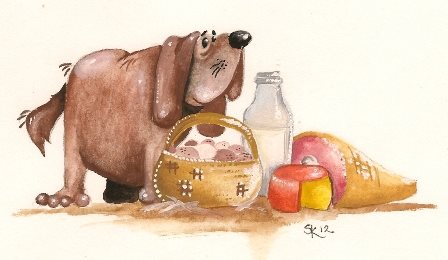 Dog Food Ingredients - Illustration by Sharon Krock
 Making your own dog food doesn't have to be difficult, expensive or time consuming. All you need is a few good do it yourself homemade dog food recipes. Put that together with healthy, dog food ingredients that you purchase yourself and you are ready to make your own dog food!
Recipe # 1
DIY Cooked Homemade Dog Food

Ingredients

1 lb raw ground chicken or turkey/pork/beef/lamb

1 lb chicken giblets (  hearts/livers/gizzards )

1 lb beef liver or kidney, heart ( chopped )


one small size sweet potato chopped

***

1/2 cup organic brown rice or large flake rolled oats

***

(

Optional

)

1 cup chopped leafy green vegetable such as spinach, chard, kale, parsley, romaine lettuce,  dark green leaf lettuce or spring mix ( organic if possible ).

1/4 cup water

*** 1 large clove garlic minced ***  ( Optional )

1/2 teaspoon unbleached grey sea salt ( Celtic )

1 tbsp good quality olive oil

1 tablespoon organic coconut oil

1/2 cup homemade bone broth (

optional

).

This will add yummy flavor, vitamins, minerals and collagen.
Cooking Instructions
Put sweet potato, ( optional brown rice/oats, garlic ) and salt in a pot. Add enough water to cover. Bring to a boil, and then turn down to simmer. Cook until VERY soft, about one hour. (

Do not drain ).

Puree raw leafy green vegetables with 1/4 cup water.


Add ground meat, giblets, liver, bone broth ( if desired ) and  pureed leafy green vegetable to cooked  sweet potato mixture. Continue to simmer for 15 minutes.

Cool


Add olive oil and coconut oil to meat and vegetable mixture. Put everything into a food processor or blender and give a quick whizz.

Refrigerate or freeze in individual serving sizes.



As with all cooked foods, some nutrients and enzymes will be lost due to the heat of cooking. For that reason I always recommend adding appropriate supplements to cooked home made dog food to make up for the loss of essential nutrients.
Recipe # 2
DIY Homemade Raw Dog Food


Ingredients

1 lb ground chicken or turkey/beef/pork/lamb

1 lb of chicken giblets ( hearts/gizzards/livers )

1 lb beef liver or kidney, heart ( chopped )

1 can water packed sardines ( drained )


1 raw egg with shell

1 medium carrot

1 cup chopped green leafy vegetable such as parsley, kale, spinach, romaine lettuce, dark green leaf lettuce or spring mix ( organic if possible )
Instructions

Put the ground meat, chicken organs, beef organs, carrot, green leafy vegetables and raw egg with shell into food processor or blender.

Add 1/2 cup water or bone broth

Blend on high until completely mixed

Add drained water packed sardines and remix quickly

Divide into appropriate serving size portions for your dog and freeze for convenience.
*** Remember ***
Check raw feeding guidelines and tips here 
The advantage of using raw dogfood recipes is that raw dog food ingredients retain all of the nutrient benefit value of enzymes, vitamins, minerals and other macro and micro nutrients. Therefore  the need for supplementation to replace nutrient loss probably isn't necessary, unless you are trying to address a specific dog health problem.
Making Your Own Dog Food
From Real Fresh Food Ingedients


Making your own dog food will forever change your mind about what you're feeding your dog. Start by making your own dog food using one or both, of the great healthy dog food recipes above. Simply double or triple the ingredient amounts if you have a bigger dog.
Dog nutrition naturally is all about teaching you how to use real, whole foods to help your dog thrive and live the healthiest life possible. How about some healthy dog treats as an occasional midday snack. Good Boy!

New!

Comments


Have your say about what you've just read here. Use the comments box below.


Sharing is appreciated!