Dog Owner With Yeasty Shih-Poo
by Jenn
(CT)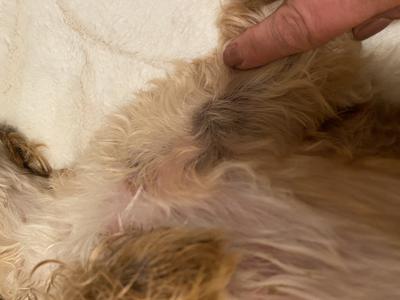 Blackened skin on under belly and in armpit area
We had our 5 year old Shih-poo swabbed for allergies and food triggers after becoming weary of 2-3 yrs of off and on antibiotics and prednisone for skin infections/crusty scabby skin/blackened spots on belly and Apoquel, pills or shots for allergies with no long term relief.

His tests showed allergies/triggers to so many proteins, many vegetables, ALL grains, etc.

He has been on a diet of raw turkey since August and we saw skin improvements and less itching but he lost a lot of weight. We added pumpkin to his food and he still seemed underweight.

After adding the pumpkin seemingly without ill effect we added sardines. All still seemed good and we began to add a duck egg to his weekend morning meals.

He has not had anything other than raw turkey, pumpkin, or sardines in the last 3weeks and his skin is the WORST it's ever been. Underbelly is very black in many spots and the crusty scabs were everywhere.

The owner of the dog food place who has been advising us thinks he may be having a yeast die off.

Would it take this long to get so bad?
We started raw in August.

We have a probiotic spray that we just started to hopefully help with itch.

I do not want to bring him to the vet because I KNOW they'll prescribe an antibiotic and steroids and we will undo anything good we accomplished with the raw.

Is this likely a yeast die off?

How long might it last and how do I know if it's severe and having an detrimental impact internally?


New!

Comments


Have your say about what you've just read here. Use the comments box below.


Sharing is appreciated!