I Love Colloidal Silver for Dogs

There are so many reasons why I depend on colloidal silver for improving dog health. II could start a website on this topic alone. Along with good dog nutrition based on a species appropriate raw food diet, using silver is one of my favourite ' must have  ' remedies for solving dog health problems.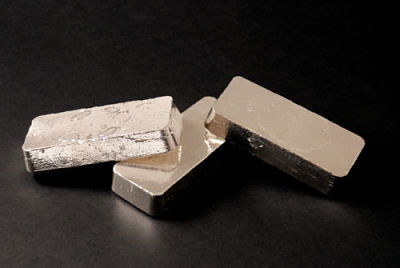 Silver
Some Interesting Facts About
The Properties of Silver

Silver has a long history of use as an important antimicrobial agent used before the introduction of antibiotics. The ancient Greeks and Romans used silver to disinfect water and food, and as a dressing for wound healing. The healing benefits have been used to fight...
bacterial infections
viral infections
fungal infections
Three of my favourite things for which to use colloidal silver for dogs internally, are...
urinary tract infections
boosting the immune system

while

fasting

as part of a soution to overcome a

giardia

infestation

As part of a candida yeast infection teatment plan

Colloidal Silver Products

Here's where the going gets tough. All silver products are not created equal. In fact some aren't even colloids, although they are sold as colloids. Silver protein products are metallic silver particles mixed with protein binders. It is silver protein products that cause ' blue man syndrome ' also known as Argyria. Ionic silver is made from ions, not particles. A true colloidal silver product is made from nano particles suspended in water and is not metabolized by the body, thereby creating no metabolic waste products for the body to get rid of.
Because I want to be sure that the colloidal silver product I give my dogs and recommend for other people's dogs is safe and effective, I only recommend Nature's Sunshine Silver Shield. It is a patented and PH balanced silver hydrosol product. By the way, this is a product for people of course, but is equally effective and safe for our pet dogs. I wouldn't be without it.
So don't bother wasting your mney on other colloidal silver products from the health store or pharmacy, or homemade silver products made in someone's bathtub ( ...really !!! ). Just get the real deal. Safe, effective and backed up by science.

A Few More Uses For
NSP Silver Shield for Dogs

canine ear infections
kennel cough
lyme's disease prevention and treament

canine papilloma virus

upper respiratory system problems such as canine asthma and sinus infections

pancreatitis inflammation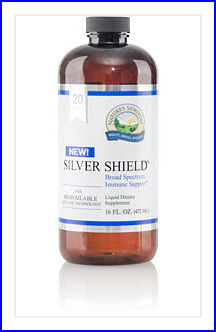 Nature's Sunshine Silver Shield Liquid

I am never without Silver Shield on my shelf. It is far and away my #1 multi purpose product to keep on hand for internal use. The large bottle is the best buy. Join as a member to get the discount.

USA residents can get it here. Just put the name Silver Shield or/or stock #4274-1 in the search bar and you will be directed.
Canadian residents can get it here. Just put the name Silver Guard and/or stock #4276-4 in the search bar and you will be directed.
Nature's Sunshine Silver Shield Rescue Gel
For Topical Use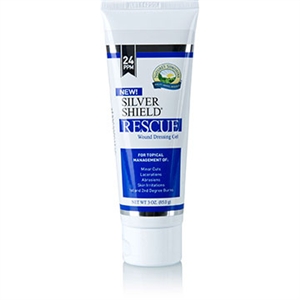 This gel is for topical Use. You can use it as a wonderful antibacterial or antifungal to soothe infections from cuts, wounds of any type, skin irritations and hots spots.
If you have a yeasty dog you can use this gel to ease the itch and irritation of yeasty red and oozing sores, between the toes and other itchy irritated places such as just inside the ears.
Silver Shield Rescue Gel has been tested and shown to be effective against micro organisms and fungi such as:
  Staphylococcus aureus
  Pseudomonas aeruginosa
  Escherichia coli ( E Coli )

  MRSA
  VRE ( Vancomycin Resistant Enterococci )

  Aspergillus niger

Silver Shield Rescue Gel is manufactured with a patented process using Bioavailable Aqua Sol Technology, which utilizes only fine particle-sized silver to optimize bioavailability and efficiency. Silver Shield Rescue provides 24 ppm of bioavailable silver.
Residents of the USA can get Silver Shield Rescue Gel # 4951-2 here.
Canadian residents can get Nature's Sunshine Silver Shield Gel # 4951-2 here.

Return to intermittent fasting
Learn it!  Love it!  Live it!