Discover How the Best


Dog Treat Recipe eBook On the Planet Can Help You, Help Your Dog Be Healthier!



Do you know a great dog treat recipe can help improve your dog's health, just by improving the quality of your dog's treats?
Do you ever wonder why most dog treats you buy at the store are loaded with questionable ingredients such as: white wheat flour, sugar, strange fats, color, preservatives, and words you can't pronounce?
Here's the secret. I'll whisper it in your ear. Most dog treats are crap! I've known this for years and years and is one of the reasons why I have healthy dogs for life.
Let me explain.

Here's how you can solve the problem of lousy ingredient, dog treats. Use a dog treat recipe that contains whole food ingredients you already have at home in your cupboard or fridge. Bingo! That was easy. Make your dog treats at home in your own kitchen. Yup!

If you continue to buy dog treats at the store, your dog's health will eventually suffer needlessly. You can prevent this.
The big question on my reader's minds is...how can I help my dog overcome health problems and be the healthy dog he used to be? People love their dogs. They worry about what's in their dog's food. They don't like to think their dog is getting sick from harmful ingredients in dog food or dog treats... and they want to do something to help.
I've been working with people to help solve their dog's health problems for more than 20 years. Many years ago, I had my own struggles with unhealthy dogs. So...I've been where you are, believe me.
It Took Me Years of Trial and Error to Find the Best Dog Treat Recipes But I Have Finally Perfected the Results and I Want to Share My Years of Dog Health Expertise With You In This eBook.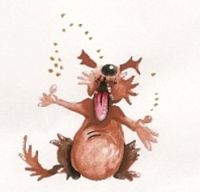 Now you can have these wonderful, healthy dog treat recipes too!
No more worry about ingredients and recalls.

Inside The Healthy Hounds Holistic Treats and Snacks for Your New Age Pooch eBook you'll find:
Treats with meat - protein is the most important part of your dog's diet. It's a no grainer!

Treats with fish - eating fish may make your dog smarter, and not just on Fridays!

Meatless treats - and gluten free options. Choose from a whole bouquet of ' Flours '!

Sweets and single ingredient treats -

Less is more!
Here's What You're Going to Get in The Healthy Hounds Holistic Treats and Snacks for Your New Age Pooch eBook
Real whole food ingredients right from your own kitchen:
eggs
dairy products
meat
fish
vegetables 
alternative flours
Each page comes with...
full instructions
nutritional information
helpful hints
witty descriptions of how to serve
adorable hand drawn illustrations
handy conversion chart for the non-metric friendly!
The Healthy Hound Quality Control Team
Each delicious dog treat recipe has been rigorously tested by the best!
If you're ready to end the problem of unhealthy, potentially dangerous dog treats, then click the button below to get immediate access to The Healthy Hounds Holistic Treats and Snacks for Your New Age Pooch today.


Get The Healthy Hounds

Holistic Treats and Snacks
for Your New Age Pooch eBook
for Only
$4.97
After check out you will be directed to download your copy of
The Healthy Hounds eBook
Holistic Treats and Snacks for Your New Age Pooch
New!

Comments


Have your say about what you've just read here. Use the comments box below.


Sharing is appreciated!