Get My Favorite Dog Treat Recipe eBook

Have Fun!



If you want a great dog treat recipe to make at home, look no further! Now you can make the best homemade dog treats your dog ever had, AND use healthy ingredients you already have in your cupboard.
Did you find your way to Dog Nutrition Naturally looking for healthy dog treat recipe ideas? Whether you want a gourmet dog treat or an all natural dog treat, there is something for everyone in this great dog treat ebook. All you have to do is follow these delicious, homemade dog treat recipes.
Looking for Healthy Dog Treat Ideas?


Are you concerned about what goes into commercial dog food and dog treats? You should be! Ingredients in dog biscuits are often less than perfect. In fact, they can be downright iffy!
Educated pet owners know they must provide their dogs with good dog nutrition from whole foods. Dog treats are food. If your dog is eating them, that makes them food. Right?
So make sure your dog snacks are made from good, healthy real food ingredients. Homemade dog treats should be made from fresh, whole foods such as...
eggs
dairy products
meat
fish
vegetables 
alternative flours

Make Yummy Dog Treats at Home
Leave Worry on the Doorstep!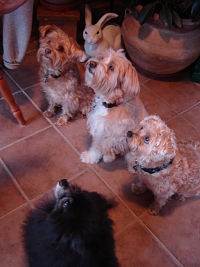 Healthy Hounds Dog Treats and Snacks Quality Control Team...Rudy, Pippin, Ty and Tuxedo!
The Healthy Hound eBook gives you really good homemade dog biscuit recipes, and more! You'll find grain free and gluten free recipes for your dog snacks. There's even a peanut butter dog treat recipe!
So if you just can't help yourself, bake up a batch of yummy rewards for your dog. The recipes in The Healthy Hound eBook, can't be beat! Our Quality Control Team worked hard to bring you the best!
Each page is illustrated and each dog treat recipe comes with...
full instructions
nutritional information
helpful hints
witty descriptions of how to serve
adorable hand drawn illustrations

The Healthy Hound
 Dog Treat Recipe
E Book


Inside you will find 40 pages of natural dog snacks and dog cookie ideas. We offer you these entertaining, illustrated by hand, dog biscuit recipes in digital ebook format. It's about time! We've had SO many requests for this ebook and now it's available to you at last!
The Healthy Hounds eBook is fun and comes with original illustrations drawn by the author. You'll love it! It even has a handy conversion chart for the non-metric friendly!
Learn how to make dog treats like this.
Treats with meat - protein is the most important part of your dog's diet. It's a no grainer!

Treats with fish - eating fish may make your dog smarter, and not just on Fridays!

Meatless treats - and gluten free options. Choose from a whole bouquet of ' Flours '!

Sweets and single ingredient treats -

Less is more!
A Delicious Doggy Gift Idea!


Buy The Healthy Hounds eBook and give delicious dog biscuits and tasty treats away as homemade gifts. That's a great idea! Why not prepare a special gift basket and include yummy homemade dogs treats. You can make them yourself using one or two of the excellent dog treat recipes from your Healthy Hounds ebook.
Any special occasion will do!
Get your copy now!
Healthy Hounds
Holistic Treats and Snacks for Your New Age Pooch
E Book

Only $4.97
Thank You For Your Purchase
After check out you will be directed to download your copy of
The Healthy Hounds eBook
Holistic Treats and Snacks for Your New Age Pooch
I know you will enjoy your recipe book!
New!

Comments


Have your say about what you've just read here. Use the comments box below.


Sharing is appreciated!