Understanding
Canine Nutrition
Starts Right Here


Canine nutrition should provide the fundamental necessary elements of health and life for your dog. But does it? Does the dog food you're serving your dog contain only the basic nutrition components required by law, or does it contain the best complete nutrition for a healthy life as required by your dog's body?

What Do You Want?

Basic

Canine Nutrition or
Better Canine Nutrition?



It all boils down to food. Your dog must have a wide range of necessary nutritional components, not only to survive...but to, thrive! Have you ever really seriously thought about this? How does the dictionary define the word ' food '?

Food is an edible or potable ( drinkable ) substance, usually of animal or plant origin which consists of nourishing and nutritive components such as protein, fat, carbohydrates and essential vitamins and minerals, which when ingested and assimilated through the digestive process are able to sustain life, generate energy, promote growth and maintain the health of the body.



| | |
| --- | --- |
| The cow | The beef kibble |
| | |
| --- | --- |
| The chicken | The chicken kibble |
What is Commercial Dog Food Exactly?


Take a look at the pictures above. When you think about food for your dog, what do you think about? Your eyes see the cow and the chicken in the pictures on the left. Do you see any beef or chicken in the pictures on the right? Ask yourself...which one is really the food?
The cow and the chicken are the real food of course. The beef and chicken kibble are the cow and chicken processed in such a way that it can be eaten by your dog. Processing has changed the cow and chicken into something else. The cow and the chicken are no longer the cow and the chicken. Right?
Therefore, the cow and the chicken are no longer real food. You are simply left with the processed end result of cooking the cow and chicken at a very high temperature ( which destroys most nutrients ), then combining that slurry with other ingredients ( fruits/vegetables/grains/starches ) and then adding some nutrients from vitamin and mineral premixes back in.
Finally, most of the moisture is extracted out, so the end result ' dog food product  ' is dry, won't go bad quickly and can be stored for long periods of time on the store shelf, so you can buy it later.
It doesn't matter if the original ingredients were good or not. What was once actual real food, has been changed by processing into something that doesn't even remotely resemble the original ingredients, the cow or chicken!
So, you tell me? Is this real food, containing real canine nutrition and life giving energy? I don't think so!

What Is Necessary for Complete
Dog Nutrition?


Macro-nutrients

Protein

Carbohydrates

Fats

Micro-nutrients

Vitamins and Minerals

Enzymes

Other

Water

Fiber

Phyto-nutrients




                                           

The only way you can create, maintain and sustain optimal health for your dog is to make sure your dog is getting enough of these important canine nutrition elements.

Feeding dogs a variety of nutrient dense whole foods ensures that nutritional needs are met beyond what is legally required and will help make up for nutrient deficiencies caused by...

incomplete diets,


eg: hamburger and rice



existing health problems
lack of appetite, inappropriate eating habits

*** If you feed your dog the same food every day for years, that's all the nutrients your dog is getting and nothing more! ***





Why Is It Important to Understand Canine Nutrition From the Perspective of Species?


Because not all species are the same. Each species has their own special nutritional needs. Dogs are not humans ( thank, God! ). Understanding that dogs are carnivores, is critical to understanding nutrition requirements. Carnivores need to feed mostly on meat. That's what carnivores do! Dog nutrition must come mainly from...
The Canine Ancestral Diet is Mother Nature's way of feeding dogs. The history of canine nutrition can teach you how to feed dogs in this present day. This has always been true and will remain true forever. You can't improve on nature's way, but you can try to duplicate it as best you can, or at the very least improve what you're feeding now.

Other Nutrient Dense Food Sources for Dogs


Eggs
Fish
Vegetables and fruits in small amounts

Listen Up!
Important Health Tip Below


For optimal health dogs should meet their energy ( glucose ) requirements from breaking down the proteins and fats from meat. Small amounts of carbohydrates in the form of fruits and vegetables and selected herbs, can provide an extra source of vitamins and minerals, important antioxidants, phyto-nutrients and fiber. 
However, most commercial dog foods and even some raw dog food blends contain way too much carbohydrates in the form of fruits and vegetables. This causes insulin levels to rise too high and too fast, potentially resulting in more health problems over time. Check this page about ketogenic diets for dogs as it regards health and disease recovery.

Make the Jump From
Basic Dog Nutrition to Better Dog Nutrition Today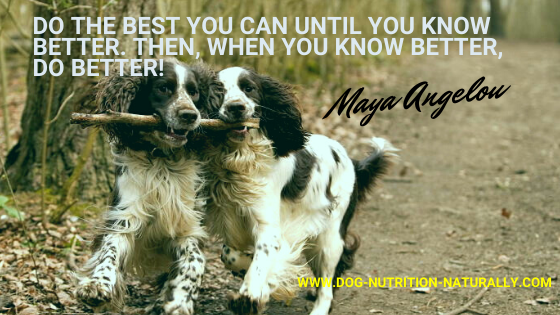 Dog food nutrition facts as it applies to the nutrition needs of all canids, is not hard once you get the basics down, and then you can do better. Look at what you're feeding your dog now, and see if it fits the definition of food above.

Ask yourself if your dog's food contains enough nourishing and nutritive components which when ingested and assimilated through the digestive process are able to...
sustain life
generate energy
promote growth and
maintain the health of the body
Well? What's your answer?
Other Natural Dog Food Options
Go From Canine Nutrition Back to Home Page
New!

Comments


Have your say about what you've just read here. Use the comments box below.


Sharing is appreciated!