Crossing Over the Rainbow Bridge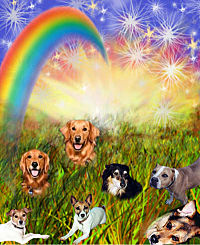 Just this side of Heaven is a place called the Rainbow Bridge.
It is a comforting thought when a pet dies, to know that they are finally pain free, happy, and cared for.
I know you feel blessed that you had the time you did with your wonderful pet.
Read this poem and the heartfelt stories of beloved pets now gone, but not forgotten.
I invite you to share your own story at the bottom of this page.


The Rainbow Bridge Poem
Just this side of heaven is a place called Rainbow Bridge. When an animal dies that has been especially close to someone here, that pet goes to Rainbow Bridge.
There are meadows and hills for all of our special friends so they can run and play together. There is plenty of food, water and sunshine, and our friends are warm and comfortable.
All the animals who had been ill and old, are restored to health and vigor. Those who were hurt, or maimed are made whole and strong again. Just as we remember them in our dreams of days and times gone by.
The animals are happy and content, except for one small thing. They each miss someone very special to them, who had to be left behind.
They all run and play together...but the day comes when one suddenly stops and looks into the distance. His bright eyes are intent. His eager body quivers.
Suddenly...he begins to run from the group, flying over the green grass, his legs carrying him faster, and faster.
You have been spotted.
When you and your special friend finally meet, you cling together in joyous reunion, never to be parted again.
The happy kisses rain upon your face. Your hands again caress the beloved head. You look once more into the trusting eyes of your pet, so long gone from your life but never absent from your heart.
Then... you cross the Rainbow Bridge together.
~Unknown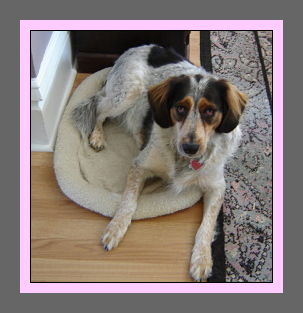 Rosie
2000 - 2006
Rosie leaves behind her beloved brother Jack and her little friend Tuxedo.
Sandra is inconsolable.
Rosie my ' Beauty Queen ', I look forward to the day that we will meet again.
I dream of sending you a kiss between your soft brown eyes, and I stroke your beautiful head.
Love you forever, Rosie!


Maggie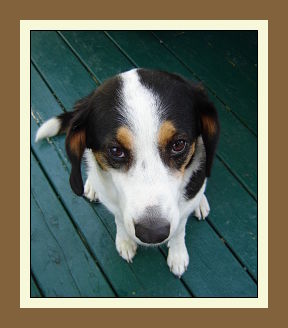 We had to put our little Maggie to sleep after she suffered a serious back injury in the spring of 2009. Her hind end was completely paralyzed. She couldn't walk at all.
On the advice of our veterinarian, we waited for her to heal and recover... but she did not. It broke our hearts, but we had to do it.
We remember Maggie's fun loving spirit, and miss her every day.
Our new dog Pager has so many of Maggie's endearing qualities.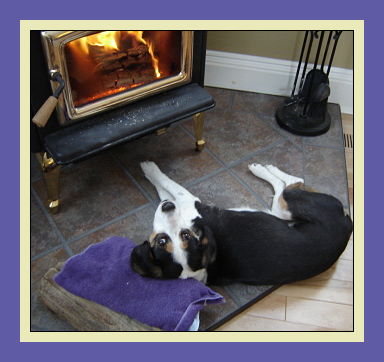 Sometimes it seems that Maggie has come back to be with us, in the form of Pager, our English Springer Spaniel.
Who knows for sure, but it makes us feel good to think so !
Maggie is sleeping beside the woodstove now with her head on a log...her favourite place to rest on a cold winter's night.
Sleep well little girl!


Saving Gracie

That's what we called it.
June 9, 2009 Kim and I went on a rescue mission to save the little Dane. I was worried. I thought we might lose her on the way home.
She was so dehydrated and weak. She couldn't even hold her head up. Four weeks old and only four lbs. That's not nearly enough for a Great Dane puppy.
Kim worked tirelessly to feed her, five, six times a day even. Nights were no exception. No one got much sleep at Kim and Richard's house. It was all about Gracie.



She grew and she grew some more.
She thrived and she kept growing, but there was something terribly wrong.
Gracie had a condition called Megaesophagus.

Finally Gracie just became far too depleted. She was only able to keep down about half the amount of food she needed to thrive and grow.
She had reached 60 lbs with a struggle, and much nutritious supplementation, but a 5 month old Great Dane should be close to 100 lbs.



Gracie's last day Oct.19, 2009.
I'll see you in my dreams, Gracie!
Here's Daddy with his Chicken Girl.


Share Your Story of Love
If you feel you would like to share your story of love for a beloved pet who is no longer with us, I invite you to do so.

Please feel free to add a picture. We would love that!

When a pet dies, it can be a very emotional experience. I hope this page has given you comfort.

Sandra
What Other Visitors Have Said
Click below to see what other visitors to this page have said...

Go From The Rainbow Bridge Poem Back to HomePage

Return to The Healthy Pet Herb Guide


Thoughts Become Things.
Choose the Good Ones.