Nutrition Facts and Canine Body Systems


Nutrition facts are critically important as they relate to all body systems.
There is no perfect dog food. Mother Nature is the only one who can provide the perfect food for your dog. Good quality, premium dog food can be summed up like this...you get what you pay for! Dog food brands are many and varied...more on that later.
The quality of your dog's food, will have a huge impact on his overall health. If you feed your dog poor quality food, or limited food choices, over time, his health will deteriorate.
Dog health problems indicate an underlying condition that needs to be addressed with a better understanding of canine food nutrition facts.
Dogs like people, require the proper nutritional balance of vitamins, minerals and other nutrients to maintain normal metabolism and fight disease.
Your Dog's Body = Your Automobile
Think of your dog's body ( or yours ) the same way as you would think about your car.
1 - You put in clean gas to fuel the car ( food ).
2 - Your car uses that fuel to power the car ( energy ).
3 - Your car emits waste gases ( exhaust ) through the exhaust system ( bowel movements ).
If you put dirty gas in your car, it won't run well, and you will eventually have an expensive trip to the mechanic.
If you feed your dog poor quality food, he will lack energy and eventually get sick. You will have an expensive trip to the vet.
All Canine Body Systems are Connected
Once you understand this nutrition fact, you will see that it is like that old song, remember the one...
...the knee bone's connected to the... leg bone...the leg bone's connected to the...ankle bone...the ankle bone's connected to the ...and so on.
Lets start at the beginning shall we...
Have you ever seen your dog drool when offered a treat, or when waiting for his dinner?
Your dog's digestive process starts when he thinks about food, sees food, or smells food. His mouth starts to secrete saliva (drool) and dog digestion has begun.
Look at this picture.
This is my partner Fergus, sitting in the chair eating a banana. The four dogs are sitting waiting for a handout. Ferg didn't want me to put this picture in, because he hadn't shaved, but I think it's so much fun!
My point is, for you to see the dogs, thinking about, seeing, and smelling the banana. You bet they were starting to drool. Give it to them Ferg.
Don't let them drool on the rug!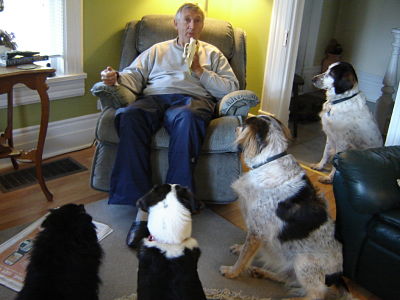 Canine Systems of the Body Made Easy
Here is a picture of a dog. You can see where most of the organs are located, and how they are inter-related...one connected to the other.
In this picture, the kidneys are missing. They are up behind the liver, close to the backbone ( spine )...but this picture will give you generally, a good idea of where everything is.
Canine Digestive System and Elimination
The canine Digestive and Elimination System, is a very large system. Think of it as 'the food - in and out system'. All body systems are important, but none so much as this one.
Your dog's digestion and elimination system consists of the mouth, teeth, salivary glands, esophagus, stomach, small intestine, large intestine, colon, pancreas, liver and gallbladder.
This system has a critical impact on the functioning of all other body systems. We will be taking a closer look at dog digestion later. This system is connected to your dog's Immune System.
Canine Immune System
When a dog has a healthy body, free of toxins, parasites, fungi and other pathogens, his immune system will kick in to protect him. Your dog's body will make it's own antibodies. These antibodies will fight off an invasion by a germ, virus, or bacteria. This process should not be suppressed or stopped.
That is exactly what happens when your dog is given antibiotics. The immune system has now been altered, and can become severely stressed. A dog with a weakened immune system, is now prone to infections. More drugs are given.
Next, your dog's body will try to eliminate the problem another way. For example, runny nose, runny eyes, cough, allergies and skin rashes, diarrhea, and vomiting. This is your dog's body trying to get rid of what's causing the problem.
More antibiotics or other drugs will be used. This sets the stage for further problems by killing the good bacteria in the gut. Get the picture? Now, connected to the Immune System, is the Lymphatic System.
Canine Lymphatic System
The Lymphatic System consists of lymph nodes and lymph vessels. The main function here is to transport and store white blood cells. White blood cells are the main line of defense against disease and infection.
Within the small intestines, the lymph carries waste and debris away from the digestive system, and into the Circulatory System.
Canine Cardiovascular and Circulatory System
The Cardiovascular and Circulatory System consist of the heart and related blood vessels. The main function of the heart is to pump blood.
The arteries carry clean blood from the heart to the rest of your dog's body. The veins carry the dirty blood back to the heart via the lungs, to be cleaned with oxygen.
The waste, carbon dioxide is then expelled, breathed out.
Canine Respiratory System
Your dog's Respiratory System consists of the mouth and nose, trachea, and lungs. Respiration means two things...breathing in, and breathing out.
When your dog breathes he takes in oxygen, and then, breathes out waste gases like carbon dioxide. Breathing also regulates your dog's body temperature.
The proper or improper function of the respiratory system, has a direct effect on the digestive and lymphatic systems. When you understand these nutrition facts you will be able to support your dog during times of respiratory weakness.
Canine Urinary System
The canine Urinary System consists of the kidneys, bladder, and ureters. This is a body system that goes totally unappreciated until something goes wrong and toxic internal garbage piles up and causes a big problem.
The kidneys regulate body PH, and have the nasty job of eliminating waste, toxins and drugs from the body in the form of urine. This urine is stored in the bladder and emptied through the urethra when it reaches capacity.
Any waste material if allowed to remain in the body, will become toxic.
Humans have the ability to sweat, thereby taking some of the stress off the kidneys. Dogs do not have this ability. It is extremely important that you recognize this.
When the kidneys do not flush thoroughly, uric acid can build up on the joints causing pain and stiffness.
Understanding nutrition facts like this, and feeding your dog an excellent healthy natural dog food can help make sure your dog is getting the best nutrition possible.
Canine Nervous System
The brain, the spinal cord and the nerves make up your dog's Nervous System. The nervous system penetrates every tissue of the body, just as the circulatory system does.
The nervous system is your dog's walkee-talkee specialist. It transmits electrical signals to make things happen everywhere in the body. The beating of his heart is a good example of this. All of his senses, including vision, hearing, smell, taste and touch are part of this network.
Nerves are like electrical wires that send messages to every part of the body. The brain is the largest and most complex part of this system. The spinal cord is the conduction pathway from the brain to the body, and back to the brain again.
Unless there has been an injury, when the nervous system is on the fritz, it is usually because of a problem with the circulatory system. The circulatory system ( blood ) can become unclean, due to nutrient deficiencies and toxins caused by poor dog food nutrition.
These toxins cannot be properly filtered out by your dog's liver, and so wind up back in the blood. This will finally take its toll on your dog's health. One more good reason to get the correct nutrition facts.
Canine Glandular System
The Endocrine or Glandular System is made up of the thyroid gland, the parathyroid glands, adrenal glands, part of the pancreas and the sex organs. These glands produce hormones which travel through out the dog's body and affect other organs.
The nervous system, immune system, and glandular system are joined together. This means that if something affects one part of the system, it has the potential to affect other parts as well. This is one great big super system that functions as a unit.
Canine Structural System
Your dog's Structural System consists of bones, muscles, and connective tissue. Think of his bones as a framework, protecting everything on the inside. The muscles and connective tissue adapt to let your dog have flexibility and movement.
This also includes your dog's skin and fur. Since the skin is fed nutrients from the blood, and if the blood is unclean from a toxic liver for example, problematic skin conditions can and do result. Again, understanding nutrition facts will help your keep your dog's bones, muscles and connecting tissues strong.
More Thoughts on Nutrition Facts
So you see, it all works backward. One system affects all the others, until you eventually work it all the way back to the beginning again, the Digestive System.
Dogs can also live under a lot of stress for one reason or another. It is a little known nutrition fact, that stress is closely related to nutrition for your dog. Stress increases the need for certain vitamins which must be replenished daily.
Some Things That Can Cause Stress
~ second hand smoke

~ smoggy city living

~ separation anxiety

~ chemicals from household cleaners

~ toxic dog shampoo and other toxic dog grooming products.

~ emotional instability in the home. ( yes, you are stressing out your dog ). Who wants to be in the middle of a fight?
Nutrition facts like this, can help you be more aware of your dog's needs. I believe that supplementing your dog's food with herbs, and some vitamin supplements which provide extra nutrients, can help alleviate this problem.
Summary of Nutrition Facts and Canine Body Systems
This has been a simplistic description of how canine Body Systems and nutrition facts work. Certainly, there is much more dog nutrition information to cover.
However, you should be able to clearly see that all body systems are related and work together. Your dog's body is only as strong and healthy as it's weakest link.
I hate to see a dog in the middle years of his life, stiff and sore from arthritis, for example. This type of health problem is what we call 'lifestyle' related. This means that it could have been prevented with a better understanding of dog food nutrition and how it works.
Prevention is always easier than trying to fix the problem after the fact.
Use these nutrition facts and put the Body Systems way of health into use everyday. Try to understand your dog's body as a whole unit. It does not function as separate parts. Disease does not happen ' out of the blue '.
There is always the connection between one organ system and another. We must find the weakest link.
Arm yourself with nutrition facts as they apply to your domestic dog. Give him the best dog food nutrition you can afford.
Then... selectively, add some targeted herbs and some vitamin supplements and you will see the improvement in your dog's health.
Results speak for themselves !
Ideas You Need to Remember
~ There is no 'perfect food'.
~ You get what you pay for.
~ Good health starts in the digestive system.
~ Do not suppress or stop your dog's own immune system process.
~ 'Lifestyle' diseases can be prevented.
~ Stress increases the need for certain vitamins.
~ Educate yourself about nutrition facts as they relate to the workings of your dog's body.
You love him don't you?
Would You Like to...

Return from Nutrition Facts Back to Home Page