Dog Treat Recipes Anyone Can Bake
I have spent a lot of time researching dog treat recipes.
Frankly, dogs don't care if they get healthy dog treats or not. It's all food to them. It's us that care. We love to give our dogs, dog treats.
It makes us feel good.

Why Bake Healthy Dog Treats ?

If you spend any time at all, looking at dog treat recipes on the internet, you will be overwhelmed by the sheer volume of information.
Everybody has the best dog biscuit recipe.
Some of these dog treats might be tasty, but are they really good for your dog?
No !!!
Call me crazy but, what would be the point of feeding your dog the best food you can come up with...and then spoiling that, by giving him treats that are full of unhealthy stuff, such as...
sugar
flour
color(dye)
preservatives
Are You Killing Your Dog With Kindness?

" I don't overfeed my dog".
I can't tell you how often I hear that. But then I see that the dog is fat, or generally unhealthy, and then I find out that the owner is giving the dog, dog treats all the time...for no apparent reason at all.
Treats for what? Why does the dog need a dog treat?
Mostly people give dogs treats because the people LIKE to give the dog treats. It makes the people feel good. They're not really considering the dog and effect all those treats may be having on the health of the dog.

Now, don't get me wrong, I love my dogs too, but what's more important...the way YOU feel, or the health of your dog? Is it all about YOU or is it about doing the right thing for your dog?

Dog Treat Recipes
Healthy or Not Healthy?

Here are some common ingredients found in most dog biscuit recipes.
sugar
honey
fruit
milk
grains( flour )

vegetables
These foods are called carbohydrates. Carbohydrates are foods which are composed of starches, sugar and/or fiber. Carbohydrates are the most common source of energy found in food. Most carbohydrates are broken down into glucose (a specific type of sugar).
Proteins and fats are the other two main sources of energy. Proteins do not break down into glucose ( sugar).
Always remember, that dogs are carnivores...meat eaters. They have very little dietary requirement for carbohydrates. They do require high quality protein from a meat source.
Most dog treat recipes contain flour of some type. Flour is made from grain, usually wheat, but not always. I see whole wheat flour, rice flour, brown rice flour, corn meal, corn flour, oat flour, spelt flour...the list goes on and on.
Some of these flours are gluten free, and some are not.
Flour is used to keep the dog cookies together. The problem is, that flour of any type, is made from grain. Grains are not a good source of carbohydrates for most dogs.
Beware 
Sugar + Dogs = Diabetes Risk
Flour is considered a high glycemic index food. That means it has the ability to spike your dog's blood sugar very high, very quickly. That will put a huge burden on your dog's pancreas over time.
In nature, dogs don't eat anything made from flour. Flour is a processed end result of processing grain. So when making dog treats use a flour that has a low glycemic index and is gluten free.
Most dog treat recipes that I have found also contain sugar.
No, no, no !!!
Have you ever wondered why diabetes is rampant in dogs these days. Look no further than the carbohydrate content of the foods they are consuming.
Diabetes is rampant in cats also. How crazy is that? Cats are obligate carnivores, for heaven's sake ! They have no dietary requirement for carbohydrates at all.
So when making dog treats, or buying dog biscuits at the store, choose a carbohydrate source that is low glycemic. That means it will not raise your dog's blood sugar level too high, or too fast.
For this I prefer sweet potatoes and large flake organic rolled oats. Sweet potatoes are rich in vitamins and minerals and are high in fiber. Although sweet potatoes might be higher in natural sugars, the high fiber content regulates the effect of the natural sugars.
This keeps blood sugar at a consistant lower level.
Organic large flake rolled oats are lightly refined and can be found at any health food store. Oats are a grain you might say...yes, but we are using very little, in the dog treat recipe that follows.
A Healthy Nutritious Tip!

Here's a great suggestion that was sent to me by Christopher Greene in North Carolina.
Christopher said..."Why not use ground flax seed meal?"
Well of course! Great suggestion.
Flax seed meal supplies:
- fiber

- lignans ( antioxidant and phyto-estrogen ) to fight abnormal cell growth

- alpha-linolenic acid, a plant version of Omega 3 fatty acids
Thanks Chris!
My Favorite Dog Treat Recipe
Terrific, Tasty and Gluten Free

- 1 Lb ground meat ( lamb, beef, chicken, turkey ) Lamb and beef tend to be higher in fat. Chicken and turkey might be a better choice for an overweight dog.
- 1 large sweet potato ( cooked and mashed )
- 1 large egg
- 1/4 tsp garlic powder ( not garlic salt )or one large clove pressed
- 5 tbsp. large flake rolled oats ( organic if possible ) or 4 tbsp. ground flax seed meal
Instructions

Pre-heat oven to 350 degrees. Combine all ingredients in a bowl, mixing up very well.
Lightly grease a cookie sheet with olive oil( very slightly ). Dump ingredients on cookie sheet and spread evenly and flatly to the sides of pan. This should be about 1/4 to 1/2 inch thick.
Bake for one hour at 350 degrees.
Remove pan from oven and use your cookie cutter at this time, if you want. If you don't have a cookie cutter, just score the 'cookie dough 'with a knife or pizza cutter, into squares.
Put back into the oven and bake for another hour at 250 degrees. This will dry these healthy dog treats out. Keep an eye on your oven. The time could be more or less, depending on how hot your oven runs.
These dog treats should be fairly dry and a little crispy, but not burned. Here's what they look like.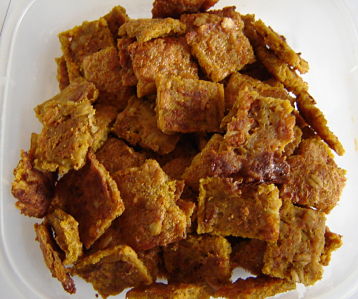 Helpful Hint

This dog treat recipe is inexpensive, easy...and very tasty.
Our dog's go crazy for lamb. Lamb however, smells very strong when cooking.
So be forewarned !
Your dogs will love you, but others might not. Lamb is also quite high in fat.
So, if your dog is overweight, maybe chicken or turkey would be a better protein choice for your dog.
I use all organic ingredients and a free range egg, when I make these yummy healthy dog treats. You certainly don't have to, they would be great anyway...and your dog will love you, no matter what.
Remember, you can always just give your dog some cut up pieces of raw vegetables or a few pieces of fruit.
Broccoli, carrots, cauliflower, asparagus, apple. These are great healthy dog treat choices, and they are real food.
You can find more great dog treat recipes at...
Healthy Hounds Holistic Dog Treats and Snacks.

Oops...gotta go. I'm trying out a new dog treat recipe. I'll let you know how it turns out.




Go From Healthy Dog Treat Recipes Back to Home Page